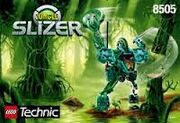 The Jungle Sector is where Jungle Slizers reside.
Not much is known about the Jungle Sector except that it was made after the Slizers were created. The Jungle Sector was destroyed when the Meteorite struck the Slizer Planet.
Geography
Edit
The Jungle Sector has many jungles and swamps. It is also very hot and humid there.
Inhabitants
Edit